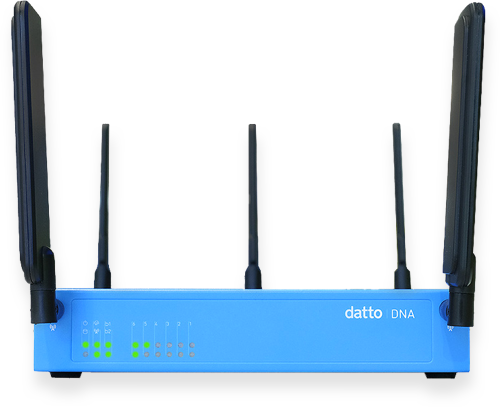 When the Internet is down, business usually stops. And fair or not, many clients blame their MSP, even if they had nothing to do with the outage. That's why we offer the Datto Networking Appliance, a cloud-managed Internet failover device purpose-built for MSPs to deliver always connected Internet to their clients, and to stop the frustrating blame game.
Always Connected Internet - 4G LTE failover and failback, No contract, No overage charges, No need to manage multiple cobbled together failover options, no need to track data usage.
All-in-one Networking - Network edge router (VPN, Client, Site to site, NATing, QoS), Firewall, intrusion detection and prevention, 4 LAN ports, 802.11ac WiFi, 2 WAN ports, external antennas.
High Performance Routing - Throughput speeds up to 1.7Gbps, Client VPN, Site to Site VPN, NATing rules, QoS, VLAN Tagging, in normal and LTE failover modes.
Integrated Firewall and Security - stateful firewall, intrusion detection and prevention, Web filtering, whitelisting, blacklisting and deep packet inspection.
Born in the Cloud - fully cloud-managed, single portal used to manage all your devices, remote updates.