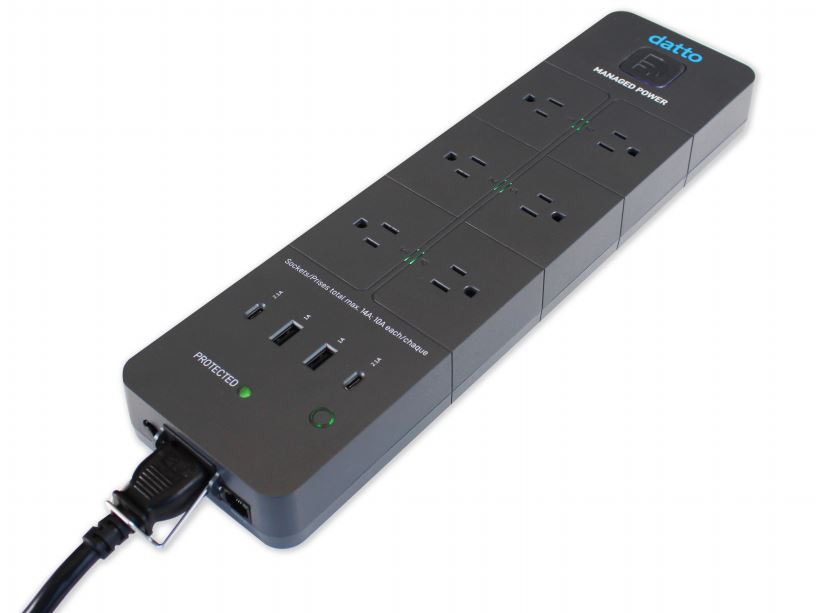 MANAGED POWER
Datto Managed Power is a cloud-managed surge suppressor, purpose-built for the MSP to enable remote power cycling. The MP60 includes 4,000 joules of surge protection, six outlets, two USB-A and USB-C ports and integrated WiFi.
No More Power Trips
The Power Trip. That's what we call it when an MSP needs to drive to a customer's site, to pull the plug on a nonresponsive device.
Datto Managed Power eliminates POWER TRIPS, putting MSPs in control. Enabling them to deliver better service, even from a distance.
Lifetime Warranty
Datto Managed Power offers 4,000 Joules of surge protection backed by a lifetime warranty and Datto's advanced replacement program, allowing MSPs to protect their client's infrastructure, keeping devices protected and maximizing client uptime. Once the surge protection is depleted, an automatic RMA process is triggered and a new device is shipped out. And since Datto Managed Power is fully managed and configured in the cloud, setting up the new device is as simple as updating the MAC address. All of the configuration settings that were in place with the old device will now work on the new one. It's surge protection, reimagined for MSPs.